We are your reliable and professional IT service for maintenance, support and IT consulting and take care of your complete IT.
We are pleased that you are looking for a suitable IT service provider and want to use our services. We support you with your computer problems independent of location via remote maintenance and offer you an on-site service in Munich and surroundings. We help you if you have problems with your internet or your PC is not working. In addition, we offer maintenance and administration of your own IT infrastructure for companies and provide you with excellent IT support.
Nowadays it has become more and more important to use a secure and stable system. Thereby it is necessary for the private user as well as for the business sector that this is done correctly. A secure system must be continuously updated, maintained and serviced, which we are happy to do for you. In doing so, attention must be paid to the selection of virus scanners, firewalls and other security-relevant components.
Particularly in areas such as Internet banking or confidential business documents in e-mail traffic etc., strict care must be taken to ensure that no data is lost or unauthorised persons gain access to it. With a current operating system such as Windows, MacOS or Linux you can already contribute significantly to your security. Linux systems have been able to establish themselves quite early in the area of web, mail and file servers, because they guarantee a high stability and security. We help you with all concerns around your server and clients. As an IT service provider we stand with our name to increase and improve your security on the Internet.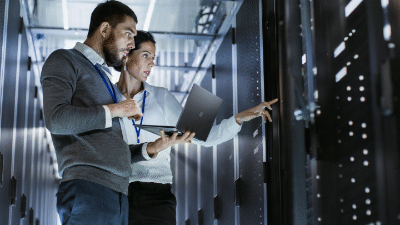 As an independent IT service provider, we would be happy to provide you with an individual and tailor-made solution that is completely in line with your needs. In doing so, we are happy to support you if you have problems with software and hardware or with the operation of an application.
Kontaktieren Sie uns!
Keine Zeit uns kurz anzurufen? Dann hinterlassen Sie uns einfach eine Nachricht.
If you contact us, you will transmit personal data such as name, telephone and e-mail. You will find information on data protection in the privacy policy.